Fun!
Summer Camps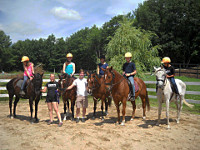 We offer Summer Camps, for adult and teenagers starting at 7 years of age, they are tailored as weekly or daily camps beginning at 8am until 4pm. (lunch is not provided)
Trail Riding
Trail Riding is only for riders with some experience in how to control the horse and you must be able to trot and canter.
We have miles of trails and we can ride for as little as an hour or up to a full day. Trips to Acadia National Park need a reservation a year in advance with 50% down.